Snippets
(Bits of news which do not fit in anywhere else)
28th November 2013: Match Report of Wales Under 18 v Australia Schoolboys. Report taken from WRU website today.
LEWIS' DELIGHT AT U18 WIN
28 November 2013 12:38pm
By Alex Bywater
Wales Under 18 head coach Allan Lewis was understandably delighted after his side claimed a 26-12 victory over Australia Schools on Wednesday evening.
The success was built on a superb first half performance, Wales leading 14-0 at the break and extending that advantage to 19-0 soon after the interval.A score from centre Garyn Smith and a penalty try, both converted by fly half Luke Price, had seen Wales pull well clear and when wing Josh Adams added a third, Wales looked to have victory in the bag.
Up till that point, Australia had shown very little with Andrew Deegan's missed penalty their only chance of points. But after going 19-0 down, they showed some fight when Wales' Jordan Viggars was yellow carded.
Captain Jack McCalman and fellow backrower Lolo Fakaosilea both touched down and with Deegan adding a conversion, Australia were back in it. After such a good first half performance, defeat would have been inconceivable for Wales and on the stroke of the final whistle, Tyler Morgan made sure of the victory, crashing over under the posts for Wales' fourth try of the day.
After a ferocious opening 10 minutes, in which both teams laid down early physical markers, it was Australia who had the first chance of points. The Welsh forwards were penalised for offside but Deegan, from 30 metres, saw his penalty effort clip the wrong side of the right hand upright.
With both teams keen to throw the ball around, the pristine surface at The Gnoll couldn't have been better suited to free-flowing rugby. And while Wales saw more of the ball in the opening 10 minutes, the final pass just didn't quite go to hand. Scrum half Tom Williams' slick service was a notable feature but aside from two superb breaks from wing Rhys Geally, Wales initially failed to breach the Wallaby defence.
While a try failed to arrive at first, Wales deserved credit for their patience in attack and they were soon rewarded when Smith opened the scoring. When it came, it was a simple but nonetheless impressive try, the Wales centre making a clean line break and showing an impressive turn of foot to touch down under the posts. Price added the simple conversion for what was a fully deserved 7-0 lead.
With the scoreboard now ticking over, the game settled down but it was the home side who continued to do all the attacking. Wales camped themselves inside the Australian half and proceeded to add a second try. Price decided to put a kickable penalty into the corner and after a huge surge from the Welsh pack, the Australian eight retreated at a rapid rate of knots. Referee David Proctor decided the Wallabies were using illegal means to stop the Welsh momentum and to some surprise, ran under the posts to award a penalty try.
Price again added the extras and with Australia offering very little in attack, Wales took their 14-0 advantage into the break.
The start of the second half was as intense as the first, but with Australia offering far more in attack. Wales though, looked like the more likely to score. From a re-set scrum on the Australian 22, Wales looked unlucky to be penalised but with captain Jon Fox and the rest of the forwards laying a solid platform, the Welsh backs did the rest. Adams added a third try, skipping through in the left corner though Price was awry with his most difficult kick of the night.
At 19-0 down, Australia needed a response and they needed it quickly. To their credit, they produced just that and in double quick time, were soon back in the game. After finally gaining some territory, the Wallabies pounded the Wales line with the pressure eventually seeing Viggars yellow carded. With a man advantage, McCalman was then bundled over from a forward drive and giant flanker Fakaosilea, who drove his side on relentlessly, made the most of a giant overlap. Deegan converted the first of those tries and after total Welsh dominance for a little less than an hour, there were now just seven points in the game.With a fight on their hands, Wales were now on the back foot. But the sign of a good team is how they react to adversity and Lewis' men showed plenty of character to close out the game. Price put a penalty effort wide but with Wales having most of the territory, the fly half made amends.
From first phase ball, he darted through the Australian defence and found Morgan, who impressed the watching Shaun Edwards with his strong running, steaming up on his left shoulder.
And when Price made the pass, there was no stopping the Dragons man as he made his way to the line for the decisive score. The conversion was added to seal what was a hard-fought but deserved Welsh victory.
Scorers:
Wales: Tries: Smith, Penalty, Adams, Morgan; Convs: Price (3)
Australia: Tries: McCalman, Fakaosilea; Convs: Deegan
28th August: Many congratulations to Matt O'Brien who scoops the third Lottery prize of £7 300.
19th August 2013: Many congratulations to John Dunleavy who played for a Wales Select XI v Caerau Ely yesterday.
30th June 2013:
St Peter's RFC would like to thank local partners Morrisons and their contractors ISG who have sponsored the building of a new drainage system for the Harlequins playing fields. Former player John Morgan provided the plant equipment required to complete the job and volunteers Paul Ring, Matthew Sweeney, Mike Thomas and Denis Morgan worked tirelessly to fit the system.
Club chairman Joe Sweeney said
Drainage has been a problem at the ground for a number of years and we are pleased to anounce that this new system may provide us with a much needed solution. I would like to express our gratitude to our community partnners Morrisons, ISG and John Morgan who together with club volunteers have made this development happen.
25th April 2013: We've now got whole villages named after us!!!! How many other places around the world have a St. Peter's connection?
New Sustainable Housing just outside Ludlow.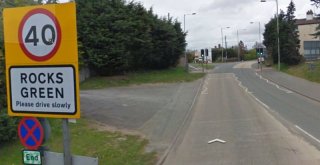 View Larger Map
11th January 2013: The club has recently received this letter and Photograph from Eamon Reavy – a former player, but always a Rock.
Hi Vince,
I hope the photo I have sent has arrived without too much damage? I knew I had it lurking around somewhere and recently found it again. This was the very first 5th team that St. Peter's put together. We played Llanishen 4ths at Heath Park in September 1984. We beat Llanishen and I am sure the score will be in your records somewhere, the game was watched by one man and his dog (and I do mean that), Ted (come on the 'Piebalds") Reavy and Runty.
It's a nice piece of St. Peter's History I am proud to be a part of.
I always follow the 'Rocks on the internet to see how they are getting on. It's good to see the club doing well and all the hard work that has gone on and is still going on is paying off.

Once a 'Rock' always a 'Rock'!

I have and still am spreading the 'Word of the Rocks' up here in sunny Skegness (Skegvegan to the locals), and am equally proud to be part of the Skegness R.U.F.C. We have a small Junior Section of which I help out and run two senior teams with the first team vying for promotion. We have just had floodlights installed with the help of a grant from the R.F.U.
The club is getting stronger now that the lads from the Junior Section are coming through, even I play now and again (knees permitting and demonstrate my silky scrum half skills (haha).
I have enclosed a list of names of those players in the photo, the team was made up from a blend of experience and youth (old and young to the rest of us).
Hope it brings back a few memories for some.
Give my regards to those who may remember me.
Good luck to all your teams for the rest of the season.

Yours in Rugby
Eamon Reavy.
The Skegness 'Rock'.
St. Peter's 5th Team – September 1984
Back Row L-R: M.Amos, M.Thomas, M.Murphy, S.Cleveland, D.Murphy, P.Colen, A.Bruckle, M.Dunn.
Front Row L-R: E.Reavy, K.Laidlaw, D.McCarthy (Capt), P.Spiteri, P.Dacey, P.Mitchem, A.Davies.
17th June: Email from Tom Nolan read out at the Presentation Afternoon.
"Guys, I just wanted to say a few words from Doha, dont worry I'll keep it short and sweet as I'm sure my old man has just about killed you all off with his speech this afternoon!
I would like to thank all of the members, players coaches and committee for giving me the opportunity to captain the club this season, unfortunately as you know it had to be cut short but seeing as you b*stards didnt lose a game while I was away I guess I should have left sooner!
To the coaches, I would like to thank John, Smudger, Patches, Vince and Ringo for giving up your time and patience to constantly help us improve as a group of players, we don't like to admit it very often but we would never be at the level we are without you and we really are grateful for your efforts.
Supporters, thank you for your continued abuse and banter which really does drive us on come game day, and to all the efforts from individuals that go in week in week out to get us out on that pitch, much of which goes unnoticed at times but we are thankful for everything you do for us.
Finally, the players, LADS – Thank you for the opportunity to be your captain this season, it wasn't easy at times and a massive roller coaster that had some terrible lows and brilliant highs, we went through a lot of crap and changes and most people wrote us off yet again but we were still up there fighting and just missed out on the top spot, which we all know we could have got. We got some brilliant players back, finally got rid of Danny Murph and we have some quality boys stepping up next year… and Budgie. So make sure we get together over the summer, make our family stronger and I have no doubt we will get that promotion next year. I start my pre season in a few weeks in 50 degree heat with our Kiwi conditioning coach so I would count yourselves lucky!
I hope you all have a brilliant day / night and remember lads that Tour is Tour… so S.O.B hoist her up!!"
Cheers mate, have a good one.
Kind regards,
31st March: Snippet by Paul Ring
Congratulations to Sam Parker for fulfilling his, and every boys dream of winning a Welsh Cap.
Sam Represented Wales U 18s in Madrid on the 30th March when he came on in the last 15 minutes against Italy.
Sam has been with St Peters playing for Ringo's side since he was 7 years old,
Sam remains an official St Peter's player and has been officially capped representing THE BLUES/ST PETERS, and therefore we all celebrate this tremendous achievement together.
More over Sam is still only 16 and has another year at U18 level, so hopefully more caps to come.
His family has agreed that a photo of Sam with his cap can be put on the wall in the club – where it belongs. Every great player has a home to go back to, and Sam will be welcome at his home (The Rocks) whenever he feels.
We look forward to Sam's progression as an elite Wales rugby star.
WELL DONE SAM
THE ROCKS
17th January:
New Cardiff Blues chief executive Richard Holland has held an emergency press conference to dampen recent speculation about the region leaving Cardiff City Stadium and returning to Cardiff Arms Park. With a local Catholic Priest at his side, Holland revealed…
more
31st December: This message was recently received through the Rocks email account. Do you remember Jim Holden? If you'd like to contact him please email here and I'll pass on your email. Thank – Kevin
Dear St. Peter's RFC
A friend of mine was thoughtful enough to send me the link to Chapter 6 of your history of the Club, after seeing the numerous references to my father, Jim Holden.
I am the eldest of his four daughters, Susan, and have very fond memories of my own of the Club, St Peter's Church and of my schooling in St Peter's Primary school followed by Heathfield House.
You may like to know that Jim and Anne his wife are both still with us, even though not too well these days, being 90 and 86 years old respectively. They still live in Norwich where they moved from Cardiff. I know that Dad has extremely fond memories of his time in Cardiff and, particularly, his involvement with the CMS and the Rugby Club. I'd venture a guess that his times in Cardiff were amongst the happiest in his life, largely due to his involvement with St Peter's generally. Other memories are of me and my sisters selling the papers with him after 7.30 Mass on Sundays – and a vivid recollection of his performance in 'Reluctant Heroes' staged in the Parish Hall!
Jim and Anne have now been married for 64 years and recently become great-great-grandparents with the birth of a baby daughter to their great-granddaughter, my granddaughter. They have 9 grandchildren and 4 great grandchildren in addition. A fairly recent photo of him and my parents is attached.
With all best wishes
Sue Holden
14th December: Following the Planning Meeting held today, the current planning restrictions on St. Peter's RFC opening hours have been lifted for a period of six months. During this time the committee will be completing further work to ensure that the club no longer faces such planning restrictions. This is from immediate effect so in other words from Saturday we'll be opening on Saturdays until 11:00 and Fridays will be 10.30. So don't order your 8.30 taxi on Saturday – stay and have some more… whatever.
22nd Movember: This weekend is Movember weekend at the clubhouse. We start with Saturday evening after the Firsts v Aberdare and the Seconds v CHSOB. The seniors (men and women) have been growing their facial hair during the month of Movember and the judging is … well definately before 9pm. REMEMBER it's all for a good cause and a laugh along the way please show your support.
Sunday morning it's time for our junior Mombers to take over. All of the teams will be getting their photographs taken for the Rocks 2012 Calendar. Whilst all the age groups will be playing on Sunday morning, the highlight of the morning will be watching Denfa's under 7′s who will be playing Cricc Under 7′s and both teams (thank you to Cricc) will be fully Mostachio'd for the game. So come on let's support they junior Mo's.
25th September: Received through the website email…
I was wondering if you could help at all. My father grew up in Cardiff and his local club was St Peters, his name is Keith Mead. It is his 60th Birthday coming up and I was hoping to get hold of a team photo with him in.
Could you please help with retrieving this? Any sort of help will be great. I currently work in Cardiff, so it wouldn't be a problem for myself to drop into your club house.
The era he would have would would have between the 1970 -1980's. His position was full back. St Peters was a massive part of his childhood, so it would be great if he had a team photo of his old team mates that he grew up with
Thanks a lot for your help
If you need anything please could get in touch
Best Regards
Andrew Mead
If you can help email here