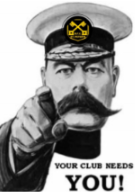 PLAYERS
If you are interested in playing at the Rocks, we are actively looking for new players to strengthen our current successful squad. With our 1st XV promoted to Division 1 East Central, our 2nd XV in Cardiff & District Premier League and our Vets side (The Krusaders) hosting regular fixtures, we have rugby to suit all abilities and ages.
TRAINING: Tuesday & Thursday evenings at the Harlequins

If you would like any more details please email stpeters1886@hotmail.com.
VOLUNTEERS
As one of the largest and oldest rugby clubs in Wales, we have 3 Senior Teams, 1 Youth Team and a Mini / Junor Section ranging from U6 – U16; with each team boasting 20+ players. To get all these teams kitted out, fed and watered each Weekend takes a great deal of organisation and financing. We are always looking for Volunteers to help out on Match Days. We are currently seeking a 'Kit Man; for the 1st XV / 2nd XV and a Team Manager for the Youth Team. stpeters1886@hotmail.com
COMMITTEE MEMBERS
If you would like to get involved tin the decision making process of the club, then all members of the club are able to apply for any position on the Main Committee. Any budding Committee Members should submit their application, in writing, to the Club Secretary by SUNDAY JUNE 30th 2019 at the latest – indicating which position you would like to apply for. stpeters1886@hotmail.com
SPONSORSHIP
We have a variety of opportunities available for anyone wishing to sponsor the club. These opportunities include: player sponsorship, programme sponsorship, match-day sponsors and kit sponsorship. All finance raised through sponsorship is ploughed directly back into the club to assist with the day to day running, purchasing of equipment and kit. If you would like more details then please contact the Commercial and Sponsorship Manager – Kyle Hopkins. kylehopkins@hotmail.com